---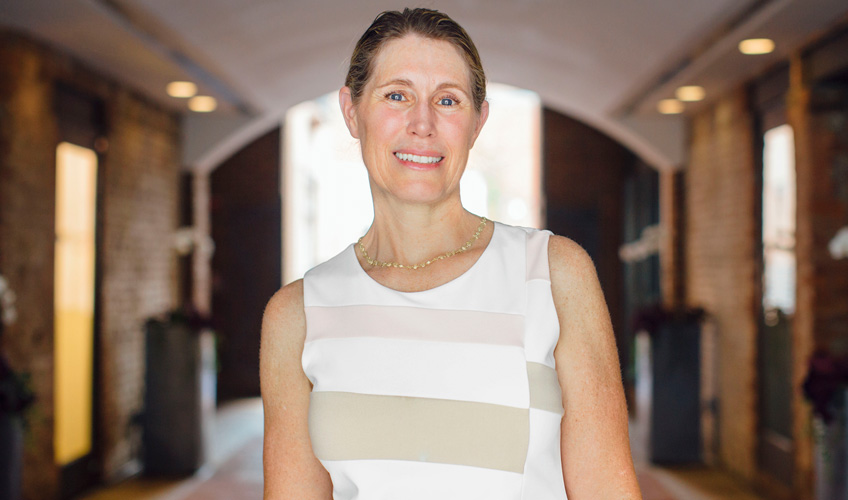 At the helm
VICE ADMIRAL SANDRA STOSZ'S ADVENTUROUS AND ILLUSTRIOUS CAREER IN THE U.S. COAST GUARD
Vice Admiral Sandra Stosz '94 recently retired from an auspicious career in the United States Coast Guard. But she's quick to point out that others helped pave the way.
Stosz entered the Coast Guard Academy after graduating from high school in 1978 — something she almost wasn't allowed to do. It wasn't until 1975 that the service academies were required to open their doors to women, with the first female class entering in 1976. "So I had opportunities that I wouldn't have had if I was born a few years earlier," Stosz explains.
Her opportunities weren't wasted, as evidenced by numerous honors. She was awarded the Coast Guard Distinguished Service Medal, three Legion of Merit Medals, four Meritorious Service Medals, two Coast Guard Commendation Medals and two Coast Guard Achievement Medals.
"I joined because I wanted to serve my country," Stosz says. "I stayed for 40 years — even though I only had a five-year service obligation — because of the people. I loved the Coast Guard."
NAVIGATING THE SEAS (AND D.C.)
As a young ensign, Stosz first served on an icebreaker. "We were stationed in Long Beach, California, and went down to Antarctica," she recalls. "It was beyond belief. There were volcanoes, seabirds, whales — just stunning beauty."
Stosz spent 12 years working at sea, including commanding vessels on the Great Lakes and the North Atlantic. Earlier in her career, she was sent to Washington, D.C., to be the military aide to the secretary of transportation. "It was a job that gave me a top-down view of the Coast Guard and the entire Department of Transportation," Stosz says.
In 1992, Stosz went to Kellogg to get a different sort of education. "There are a lot of good things about government, but there are also things we can learn from the private sector, like agility and innovation," she says.
At Kellogg, Stosz learned concepts that helped her throughout the rest of her career. "When people give me compliments on my leadership, it often traces back to what I learned at Kellogg — which is how to make good decisions, so you can move your team forward," she explains.
But that's not all she took from her Kellogg experience. "At that time," she recalls, "the other business schools were all individually focused. But Kellogg was bold. They knew that teams were the way to the future."
LEADING THE WAY
After Kellogg, Stosz went on to additional Coast Guard leadership roles, and she earned a Master of National Security Strategy from the National War College in 2004. She also became the first woman to lead the Coast Guard Academy.
Stosz's last assignment was deputy commandant for mission support, leading the 17,000-person organization that enables the Coast Guard to perform operational missions.
"Is the door open? If so," she says, "it's up to you to go through it and do the necessary hard work."
"Kellogg was bold. They knew that teams were the way to the future."